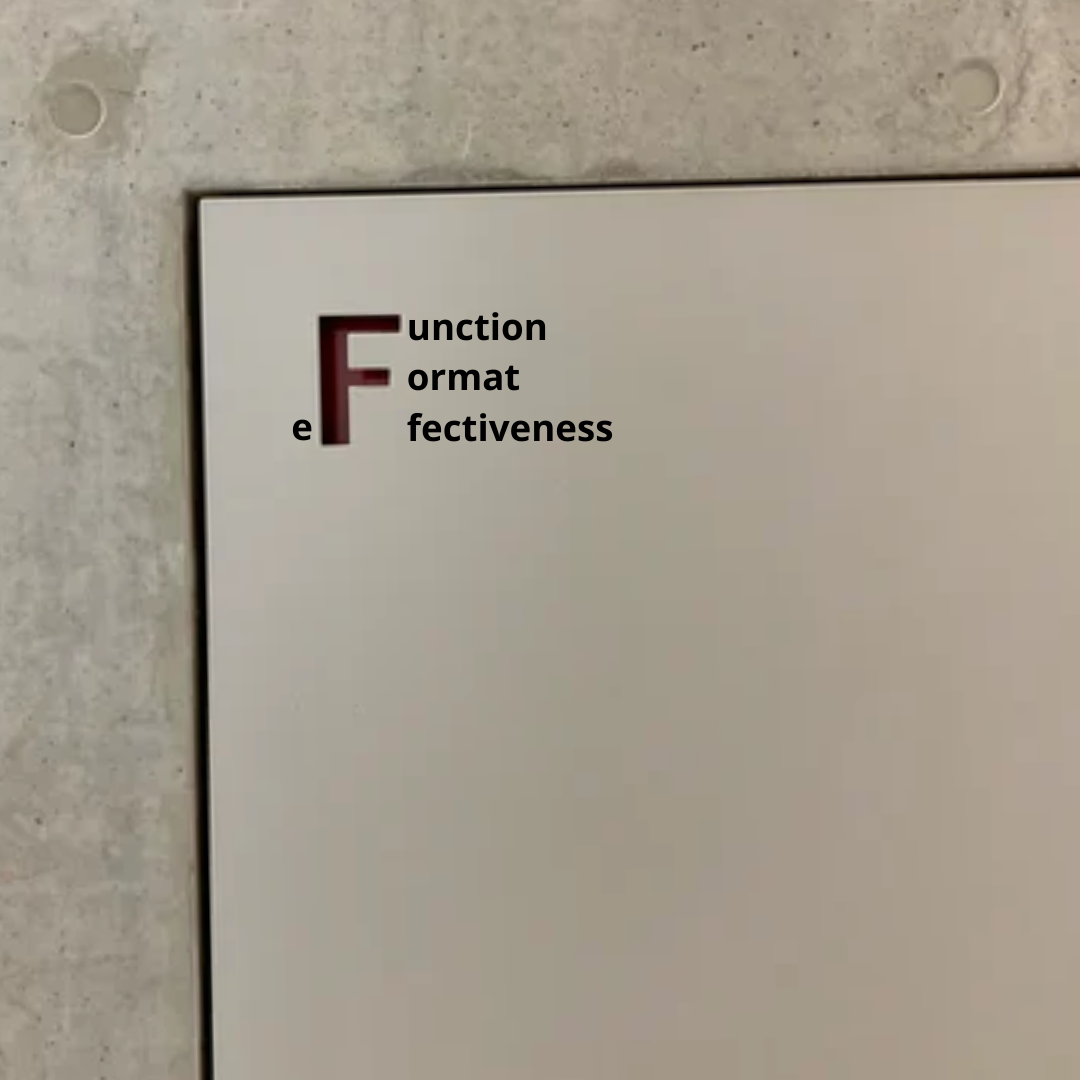 What Are The 3 F's Of Resume Writing?
The 3 F's of resume writing are Function, Form(at) and (e)Ffectiveness. When these 3 elements are adhered to simultaneously in the resume, they make it the perfect fit for the role you're applying to. The 3 F's can be explained as:
Function - This is the reason for which you are drafting your resume - is it for getting a new job in the same domain, a new job in a different domain, or simply routine updation? Depending on your reason, your resume can vary vastly!

Form(at) - It consists of 2 parts:

Identifying the appropriate type of resume based on the function it has to perform

Mentioning all the relevant sections in the prescribed order, and the information within in its entirety

(e)Ffectiveness - This element is a consequence of the amalgamation of the Function & Format elements, rather than an independent one in and of itself. It is essentially a metric that dictates whether the final output captures your profile well based on the reason, and if it does so in an appropriate and relevant format!
How do you follow the 3 F's of resume writing
Function - Customization is key to ensuring your resume performs its intended function. When applying to a new job, a short, crisp resume with only details relevant and pertaining to the job application is apt, whereas for resume updation, a long resume with all your professional experience & accomplishments is suggested to provide a detailed overview of your profile!

Form(at) - Your resume format needs to be selected based on the domain you're applying for a position in, as well as the location (if it's in a different country). Creative & offbeat fields like Marketing, Media & Entertainment, HR, etc. have a lot of emphasis laid on aesthetics, thus a Visual format works best. Conversely, analytical roles in Finance, Operations, Sales, etc. demand more text-heavy Professional resume formats as more quantitative information is required in addition to your general work-ex descriptions. Lastly, if applying to jobs in foreign countries, International resume formats need to be used, as they (most likely) differ from the format used in your domicile of origin.

(e)Ffectiveness - Identifying your resume's effectiveness is essentially asking yourself these questions:

Is the format I used appropriate considering my domain & the prescribed resume length? Should I change it to fit more content, or should I use a more aesthetic one with slightly lesser content?

Are all the relevant skills and keywords present, and are they in their right places?

Are the content and format cohesive? (For example, you can't apply for an associate position in a law firm with a visual resume, no matter how appealing it looks or how good your content is)

Is there a proper flow & continuity from the start through to the end of my resume?
Why should you follow the 3 F's of resume writing
Function - When applying to a new job, your resume goes through

ATS scanning

, where keywords relevant to the position being applied to are matched with those on your resume. Thus, it is better to ensure relevant keywords exist, which can be done only if your resume showcases your expertise within the domain rather than a holistic overview. Additionally, your resume mustn't cross the specified length<link to 'How many pages should a resume be?'>. On the other hand, if you're updating your resume, ensure all the tasks, responsibilities & achievements are included while your memory is fresh - it helps provide a wider repository of information to work with, rephrase & restructure later on when you apply to a new position.

Form(at) - Adhering to the relevant format does not give you bonus points; it is a hygiene factor. If your format is incorrect, your resume is consigned to the trash without a second look. For example, including your photo and country of origin is extremely common in India; conversely, in the USA, it is frowned upon due to racial discrimination prevention laws there. 

(e)Ffectiveness - It answers the ultimate goal (and question) - "Is my resume a near-perfect fit for the JD?" If your answer is yes, you're good to go and submit the application……..If not, it's back to the drawing board!
TL;DR - The 3F's of resume writing are Format, Function & Effectiveness. The element of Format focuses on the inclusion of all relevant content in the prescribed order, using a format applicable to the role being applied to. Function refers to the reason for which you're drafting the resume - is it to get a new job in the same domain, a new job in a different domain, or simply routine updation? Your answer dictates the content (and its customization) in the resume. Lastly, effectiveness is the metric that measures the two elements to see if it forms a sensible, cohesive whole, that provides a good overview of your profile while being as close to the perfect fit for the role you're applying to as possible.